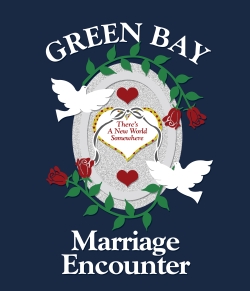 The mission of Marriage Encounter is to nurture, support and give hope to the marriage of a man and woman. Encourage their family life by offering an opportunity to experience a deep and loving communication between a husband, a wife and God. We also encourage personal self-esteem and spirituality, couple and family relationships and community outreach which affirms the value of marriage in a diverse society. Marriage Encounter fills the needs of married couples to grow together in the belief that the future transformation of the world begins at the heart of the family—the couple.
March 16-18, 2018
Norbertine Center for Spirituality
De Pere, WI
April 27-29, 2018
Norbertine Center for Spirituality
De Pere, WI
Green Bay Marriage Encounter Supports our Military Veterans. All Veterans and their spouses can experience a Marriage Encounter Weekend at NO CHARGE! Thank you for your service to our Country!
For all other couples, the only required cost is a $40 non-refundable registration fee. During the weekend you will have the opportunity to make an additional free will donation, but this is strictly voluntary. No couple will ever be turned away because of lack of funds. Couples stay overnight at the Norbertine Center for Spirituality and meals are provided. On two-night weekends couples attend from 7:00 p.m. on Friday to 5:00 p.m. on Sunday. On one-night weekends couples attend from 7:00 a.m. Saturday to 5:00 p.m. on Sunday.
Mail this form and $40 registration fee to:
Sue and Dennis Amtmann
3659 Glendale Ave
Green Bay, WI 54313
(920) 544-5166
Registrations are on a first-come, first-served basis. Waiting lists are maintained for each encounter weekend.
For more information on the Green Bay Marriage Encounter contact our Registration Couple.
Dennis & Sue Amtmann
3659 Glendale Ave
Green Bay, WI 54313
Phone: (920) 544-5166
Email: registration@gbme.org
Copyright 2017 Green Bay Marriage Encounter